Healey, Deshaies, Gagliardi & Woelfel has been in business for over 40 years. We are a general practice law firm providing quality legal counsel in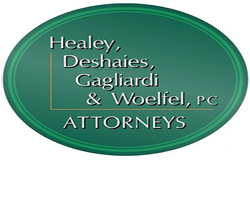 Massachusetts and Southern New Hampshire. We are dedicated to helping our clients with all of their legal needs, no matter where they are in life. We provide each client with an attorney who has committed him or herself to an in-depth understanding of that specific area of law and a support staff that can ensure that deadlines are met and clients can receive the service and information to which they are entitled.
Two of the firm's partners, Attorney Robert Deshaies and Attorney Paul Gagliardi, have been practicing law in Amesbury since the 1970s. They formed a partnership with another long-time Amesbury lawyer, Attorney John Healey, in 1998 and Attorney John Woelfel in 2002, creating the firm Healey, Deshaies, Gagliardi & Woelfel, PC.
For us, Amesbury is truly a "hidden gem" which represents the best of New England living with its history, scenic beauty, and wonderful selection of restaurants and shops.
We're proud to be members of the Amesbury Chamber, and appreciate the work they do for this community. The Amesbury Chamber highly prioritizes the success of its local business members and will assist with their development projects and goals. There are many enjoyable and welcoming Chamber events that afford local networking and other opportunities to build businesses and also "behind the scenes" options such as e-mail blasts to keep in contact with clients. In fact, here are some photos of our staff at last year's Legislative Luncheon.