Over 20 million Americans over the age of 12 suffer from addiction; Banyan Treatment Center welcomes the person in need of treatment with open arms. For years, Banyan has been a leading option for people seeking recovery from addiction. Their staff is what makes the treatment top notch while their clients thrive as a result.
"The greatest gift for us is seeing former clients celebrate multiple years of recovery!" said Tom Goris, director of business development. "We offer great care for those in need and back that up with a guaranteed full course of treatment. Even in the event the insurance company cuts the treatment stay short. A person and their family will get what they need at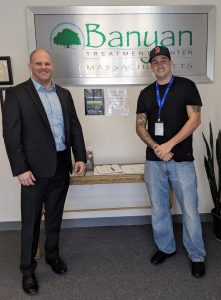 Banyan Treatment Center regardless of outside circumstances."
The Massachusetts branch, owned by Mass-native, Matthew Ganem, realized that this community needed the kind of service Banyan could provide. Banyan offers healthcare exposure to a different type of demographic with a need for saving lives, healing families and loved ones from addiction. There will always be a place where they can seek a better lifestyle at Banyan Treatment Center.
"The culture of the facility is tangible. From the top down to the client, we do a great job helping each other out on a day to day basis." Goris said. On a clinical level, they utilize evidence-based best practice treatment models for clients. Ranging from trauma to dual-diagnosis but not limited to, in a conscious effort to offer what has been proven to yield positive outcomes.
Additional Facts:
-30 rooms for men (two residence), 15 rooms for women (one residence)
-Over 60 staff members
-Always have availability, no one is turned away
-Offer both partial hospital care and intensive outpatient
-If insurance cuts, treatment continues for 30 days before discharge
Why Amesbury?
Being part of the Amesbury Chamber allows for them to be involved in a community like Amesbury! Opening connections and opportunities to give back to the people through bringing awareness and educational programming. Additionally, in the event someone needs there services, the chamber is another way to contact or find information to bring them to Banyan.