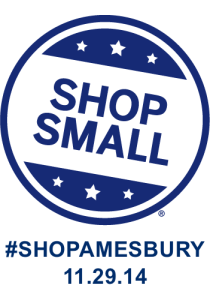 Very soon, many of us will be celebrating Thanksgiving with our families and planning our holiday shopping itineraries. I hope you will join me in shopping locally on Small Business Saturday, November 29. This initiative was started by American Express in 2010 and officially recognized by the U.S. Senate in 2011 because of its tremendous value to business owners and the cities they operate in.
Did you know that roughly 92 percent of American businesses are small businesses, and many of these are Main Street shops, like our very own in Amesbury? There are many statistics about the benefits of shopping locally, but one that really hits it home for me is from small business advocacy group The 3/50 Project which contends that of every $100 spent at a local retailer, $68 will return to the community through taxes and payroll. If that isn't reason enough to shop small this holiday season—and year round—do some of your own research too. It's really enlightening once you realize the full impact.
Between now and Small Business Saturday, we will try to build more awareness of this important initiative and the terrific small businesses we have in Amesbury. Please do your own part to be a Neighborhood Champion.