After thousands of nominations and hours of combing through the applications of deserving small towns, Deluxe Corporation narrowed their list to 20 communities that will move forward in the Small Business Revolution – Main Street Season 3 contest.
Amesbury has been selected as one of the top 20!
One lucky community (hopefully us!) will win a $500,000 makeover from Deluxe and be featured in an eight-part series on www.smallbusinessrevolution.org.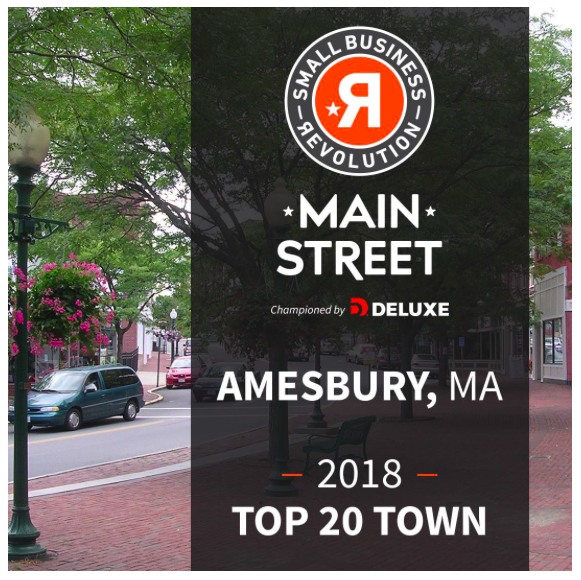 Between now and December 4th, each community has been asked to help the Deluxe Team better narrow down their selections. If you own a business in Amesbury please complete a brief questionnaire by clicking here or using this link, bit.ly/SBRAmesbury. Please feel free to share this link with fellow business owners and check in with your peers to be sure they've done their part to complete this questionnaire prior to December 4th. It does not matter what kind of business you own. They have worked with a variety of businesses in their series and they should hear from all of you.
To learn more about the process and the series itself we highly recommend visiting their website.
If you do not own a business in Amesbury, we have work for you too! The Deluxe Team will visit their Top 10 communities to choose a Top 5. The Top 5 will go to a Nationwide Vote! Our work starts now to get America to fall in love with Amesbury.
Like the Small Business Revolution Facebook page and follow them on Instagram to participate in social media conversations.
Start sharing posts about this contest so that when we need the vote of every person you've ever met, they don't have to think twice.
If you have any connections to media across the country start planting the seed now and asking for their help to promote Amesbury as a finalist in this contest.
If you have access to signs, billboards, or letterboards (in any city) use them to congratulate Amesbury for being a Top 20 Town with the Small Business Revolution!
The more we can spread the news and show the Deluxe Team that we are ready to welcome them with open arms and the entire community is rallying around this contest, the better!
Do not hesitate to contact our office with any questions. Our Executive Director, Kassandra Gove, is the official point person with the Deluxe Team and she can be reached at Kassandra@AmesburyChamber.com.