Amesbury Shop Local-Opoly!
Last summer, the Amesbury Chamber of Commerce worked with local business owners to develop a game that would encourage people to revisit shops, explore new businesses, and support our local non-profits.
The way it worked was that a limited number of businesses and non-profits signed up to be part of our gameboard (it was first come, first serve for sign-ups). Each business was assigned a spot on the board, sorted into property groups, and given their own special stack of property cards. Then, for the month of August, the public was challenged to collect those cards by visiting those businesses, making purchases, and making donations. Once a color category is collected, a person can return the set to the Amesbury Chamber for a chance to win that category's cash prize, as well as for a chance to win the grand prize. And there was no limit to the number of times a participant could collect a foursome!
For August 2021, we have teamed up with Shea Concrete to once again bring Amesbury Shop Local-Opoly BACK! If you're a business interested in participating in the 2021 game, then please complete and return the application (found HERE).
This program was developed to support out businesses by generating increased sales and awareness. We don't want to forget about our non-profits, which is why every category has a designated space that we give to a non-profit. Participation is open to any Amesbury business or non-profit, though Amesbury Chamber members get a discount on their sign-up fee (to support our robust advertising campaign throughout the month of August).
If you have any questions, please feel free to call or text me directly on my cell phone. Space is limited, so sign-up while you can!
Phil DeCologero
Executive Director
c. 508-423-6709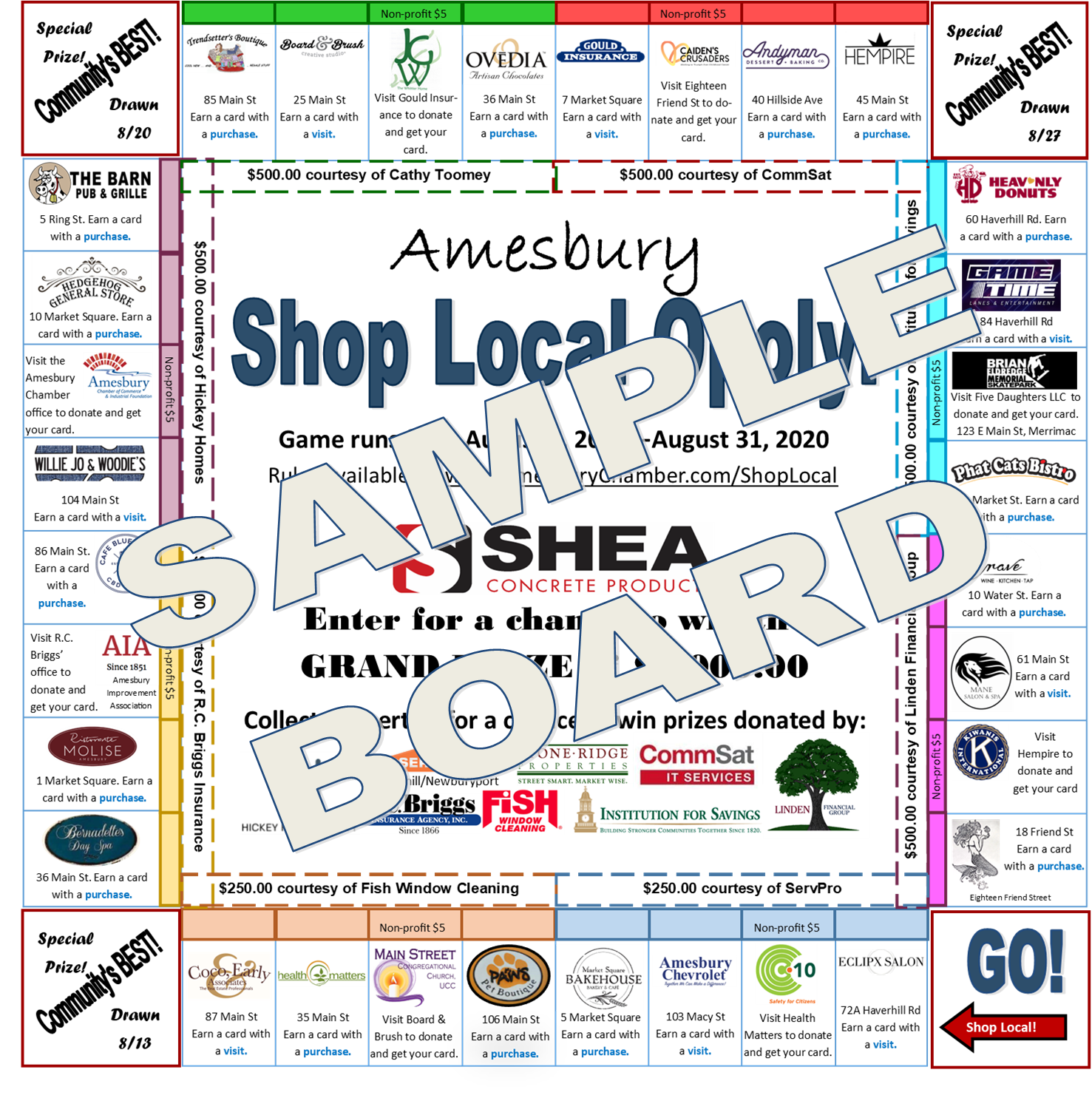 Zoom in, download or print >>HERE
For the month of August 2021, the public is encouraged to collect property cards by visiting each of the game board businesses' real-world locations . Some locations may require a purchase to receive their property card, while some may simply require a visit. Details for each property are listed on the board.
Non-profits are an important piece of our Amesbury community. This is why each color category includes 3 businesses and a non-profit. To earn a card from the non-profit block, a player must donate a minimum of $5.00 to that organization.
Once a player has collected all four property cards in a given color category, they should enter their information on the back of each card and return all four cards to the Amesbury Chamber of Commerce Office (5 Market Sq) by September 7, 2021. Those cards will be entered for a chance to win the sponsored prize for that color category.
For every completed category returned, that player will also be entered into our grand prize drawing of $1,000.00 donated by Shea Concrete.*
*There is no limit to the number of times you can submit a completed category. The grand prize and property drawings will be announced on Thursday, September 9, 2021.
CHANCE:
On 8/12, 8/19, & 8/26, the Amesbury Chamber of Commerce will pull a name from the group of cards that have been submitted to that point. The winning name will earn the special prize for that evening!