Amesbury Shop Local-Opoly!
The Amesbury Chamber of Commerce and Shea Concrete have teamed up with several of our local businesses to organize this August 2020 game.
The foundation of our community is made up of our local businesses. Their ability to thrive – not just as businesses, but as employers, philanthropists, and essential service providers – depends on our support.   Businesses of all sizes are facing obstacles never before seen in our lifetime. This is why we have all gotten together to create a fun way that our community can support Amesbury's businesses and non-profits as we all strive to recover from these past several months.
Collect properties and enter for a chance to win prizes. Sitting at your computer or phone? Participate in "Community's Best" and leave a positive review on any Amesbury business's page. In big ways and small, please join us in supporting our Amesbury businesses. Thank you!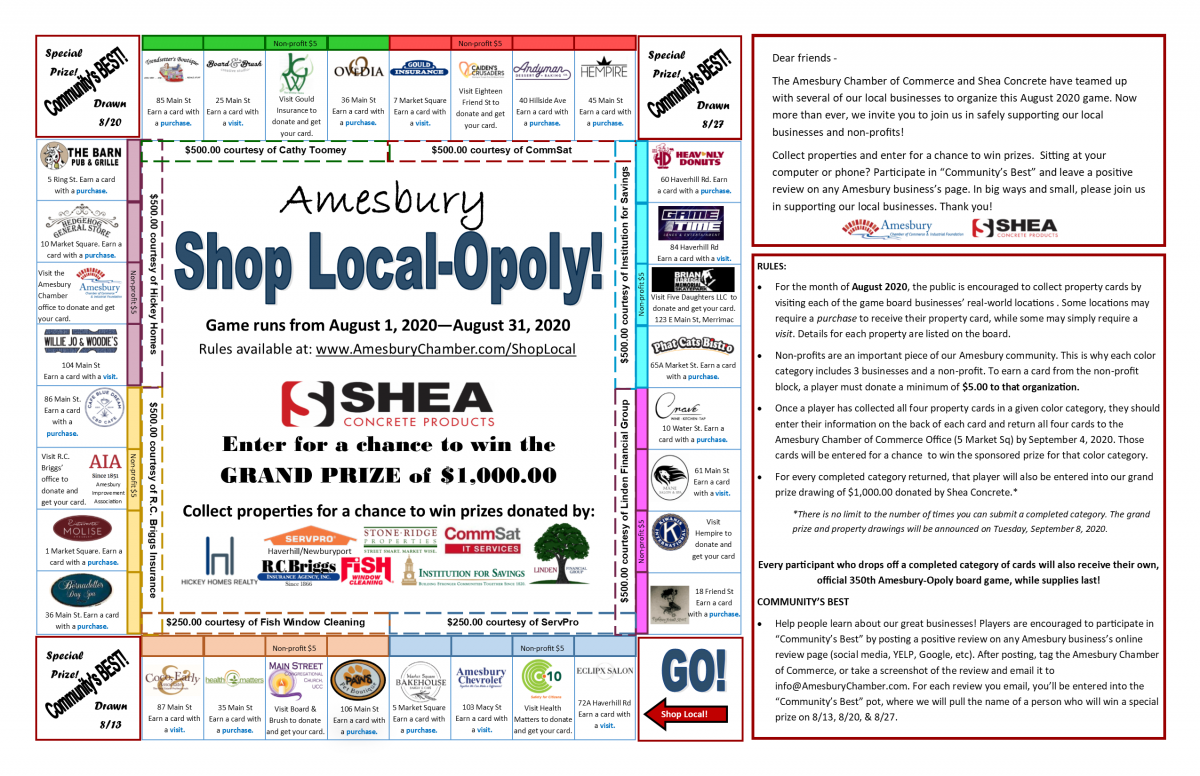 Zoom in, download or print >>HERE
For the month of August 2020, the public is encouraged to collect property cards by visiting each of the game board businesses' real-world locations . Some locations may require a purchase to receive their property card, while some may simply require a visit. Details for each property are listed on the board.
Non-profits are an important piece of our Amesbury community. This is why each color category includes 3 businesses and a non-profit. To earn a card from the non-profit block, a player must donate a minimum of $5.00 to that organization.
Once a player has collected all four property cards in a given color category, they should enter their information on the back of each card and return all four cards to the Amesbury Chamber of Commerce Office (5 Market Sq) by September 4, 2020. Those cards will be entered for a chance to win the sponsored prize for that color category.
For every completed category returned, that player will also be entered into our grand prize drawing of $1,000.00 donated by Shea Concrete.*
*There is no limit to the number of times you can submit a completed category. The grand prize and property drawings will be announced on Tuesday, September 8, 2020.
Every participant who drops off a completed category of cards will also receive their own, official 350th Amesbury-Opoly board game, while supplies last!
Help people learn about our great businesses! Players are encouraged to participate in "Community's Best" by posting a positive review on any Amesbury business's online review page (social media, YELP, Google, etc). After posting, tag the Amesbury Chamber of Commerce, or take a screenshot of the review and email it to info@AmesburyChamber.com. For each review you email, you'll be entered into the "Community's Best" pot, where we will pull the name of a person who will win a special prize on 8/13, 8/20, & 8/27.