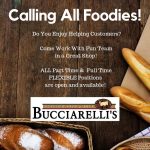 Website Bucciarelli's Butcher Shop
SEEKING FOODIES! FULL TIME AND PART TIME! Bucciarelli's is seeking help in the shop with food preparation, creating high-quality sandwiches, and stocking shelves with our unique products. Are you a team player that would like to work in a fun, foodie environment? We are looking for friendly, customer-focused people who enjoy working with the public. We are open 7 days a week, all shifts are available and we can be flexible with your schedule.
$12-$17/hour depending upon your skills and experience.
Call Judy at 978.518.3131 or email her directly at judy@bucciarellisbutchershop.com and tell us more about yourself! Or stop by the shop during business hours!