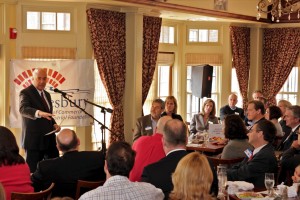 The Amesbury Chamber of Commerce is a nonprofit independent advocate for its members, both building a bridge between the private and public sectors, and continually connecting businesses with the community.
As a membership organization, its primary objective is to serve its members as a resource for pragmatic information and advantageous opportunities to further business success.
As a nonprofit business organization, its primary objective is to advance the economic development of Amesbury by encouraging growth within existing businesses, drawing businesses to the city, and working with local, regional, and state officials to improve the economic climate and support incentives for growth.
As a promotional organization, its primary objective is to connect potential customers and supporters to members by building awareness of their services and products, and cultivating municipal support, community commitment, and more.
To accomplish all this, there is a dedicated team led by Amesbury Chamber of Commerce Executive Director Kassandra Gove and the Board of Directors, all of whom are tremendous resources to Chamber members and greater Amesbury. These leaders share a vision of Amesbury as a vibrant and economically stable community that is thriving in every way from great local and regional support.
For more information, swing by the Amesbury Chamber of Commerce office at 5 Market Square, call (978) 388-3178 or email kassandra@amesburychamber.com