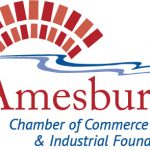 Website Amesbury Chamber of Commerce
Job purpose
To provide support to the Executive Director creating a team that will efficiently work towards achieving the mission of the Chamber of Commerce. This team member will advocate for member success by actively seeking initiatives and opportunities that advance our business community. Elements of work will include print and digital marketing, public speaking, event planning, and volunteer management to bring successful events to the Amesbury community and meet the growing needs of our businesses, residents, and visitors.
Duties and responsibilities
Committee/Events
As determined and agreed upon with the Executive Director, fully responsible for planning and executing a portion of the Chamber's annual events (total 45+, from small meet ups to 2000+ person signature events).
Conduct research, make site visits, and find resources to help make decisions about event possibilities that best serve our members and target audiences.
Identify event opportunities and generate interest among members and target audiences.
Prepare a variety of publications, materials, and programs for events.
Maintain Chamber website ensuring that event and program updates are made on a timely basis.
Attend signature events and assist with "day-of" set-up/preparation, event tasks, and post-event clean up.
May be asked to assist with social media pre, during and post event coverage.
At the designation of the Executive Director, lead volunteer committees and provide support to officers/board as needed.
Send meeting notices to assigned committees and collect committee reports.
Membership
Keep informed of the membership levels and be prepared to answer questions from members regarding dues structure and benefits.
Compile and contribute to accurate constituent records using agreed upon database management software.
Engage in direct member contact as well as greeting visitors to the office in a professional and friendly manner.
Office Operation
Provide administrative support and process phone, mail and email communications when necessary.
Communications/Web Page/ Social Media
Contribute to ensuring that all website and social media sites have accurate information.
Other responsibilities
Compile reports as requested by the Executive Director.
Maintain familiarity of Chamber member businesses to assist the public.
Other duties as assigned.
Qualifications
Education
Technical
Advanced knowledge of computer systems, specifically in MS Office products, social media, QuickBooks desirable.
Outstanding time management skills and excellent organizational skills, attention to detail, and follow through.
Advanced communication skills – verbal, non-verbal and listening skills with volunteers, members, peers, and co-workers.
Physical
Some lifting and carrying required.
Ability to work in a variety of environments including but not limited to heights, elevators, around crowds, loud noises, flashings lights and on a variety of floor surfaces.
Frequent walking, including stairs required.
Applications
To apply please submit a resume and cover letter to Kassandra@AmesburyChamber.com. Interviews to begin immediately. Position open until filled.
This description is intended to provide an overview of the responsibilities and all-inclusive position. It is not all inclusive. The incumbent may be required to perform job-related responsibilities and tasks other than those stated in this description commensurate with the needs of the organization. The responsibilities may also change over time. This Position Description is provided for informational purposes only and does not form the basis of a contract.