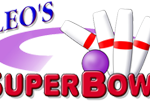 Website Leo's Superbowl
Provides bowling center customers with prompt, friendly and efficient service. Welcomes the guests and directs them to the proper area in the bowling center.
Duties include but not limited to:
• Checking in and checking out customers
• Assigns bowling lanes to patrons and collects fees.
• Reserves lanes for bowling league or individuals.
• Coordinate birthday parties and functions when necessary
• General clean-up of facility.
• Assist bowlers with scoring.
• Service of beer and wine (Prefer TIPS trained applicant but will certify if needed).
• Answer inquiries whether in person or through the phone.
• Assist in Redemption area when necessary
• Computer experience required (PowerPoint and Excel preferred)
Must be 18 or older. Great job for college commuters or any adult looking for part-time work. Weekends are required when applying. Organizational and communication skills are required. Minimum 15-20 hours a week required.
APPLICATIONS ARE AVAILABLE AT:
Leo's Superbowl
84 Haverhill Road
Amesbury MA 01913
978-388-2010