When:
April 3, 2017 @ 5:30 pm – 7:30 pm
2017-04-03T17:30:00-04:00
2017-04-03T19:30:00-04:00
Where:
Crave Restaurant
32 Elm Street
Amesbury MA 01913
Contact:
Amesbury Carriage Museum
978-834-5058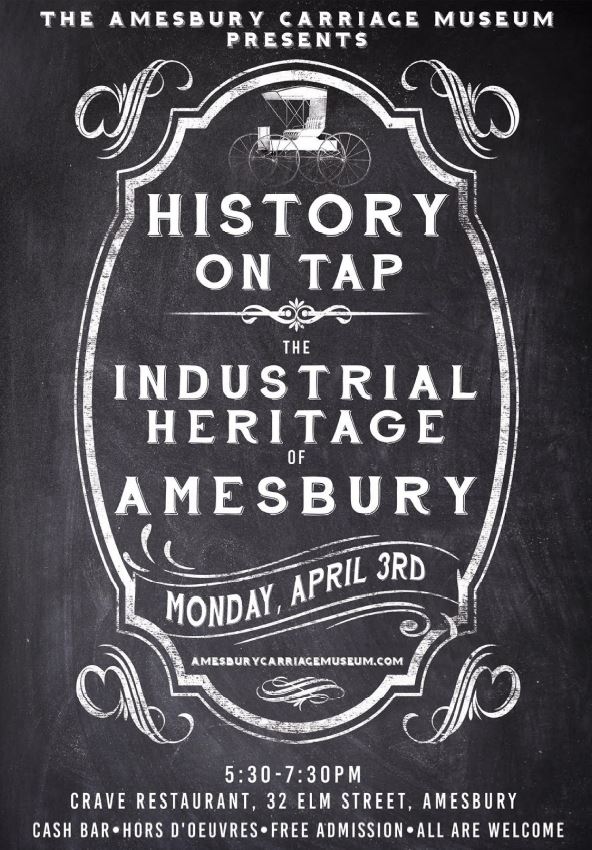 This is the second History on Tap program – an event intended to be as much a social occasion as a program with historical content to share. History on Tap marks the beginning of the Amesbury Carriage Museum program season. The event is open to the community – there is no admission fee.
The program focus this year will showcase the work of the volunteers involved in the Amesbury Industrial Survey. Members of the survey team will be on station at different tables in the restaurant to share and explain examples of survey materials – maps, photographs, historical reports – that together represent detailed information about the industrial history of Amesbury.
Beginning in April 2016, this volunteer group has been gathering historical information about industrial Amesbury. The scope and range of source material is incredible – written and published histories, maps, photographs, and artifacts that illustrate the evolution of the town and shed light on changes to the built environment.
The industrial survey project supports plans for the Carriage Museum that include a new series of public programs (tours and events), an initiative to develop a history curriculum for Amesbury students, and exhibit projects in various locations.
There is no admission for the event. Crave Restaurant will serve hors d'oeuvres and there will be a cash bar. For more information contact John Mayer, Executive Director, Amesbury Carriage Museum at (978) 834-5058 or via email at jmayer@amesburycarriagemuseum.com.