When:
May 6, 2017 @ 12:00 pm – 4:00 pm
2017-05-06T12:00:00-04:00
2017-05-06T16:00:00-04:00
Where:
City Hall Parking Lot
62 Friend Street
Amesbury MA 01913
Contact:
Amesbury Chamber of Commerce
978-388-3178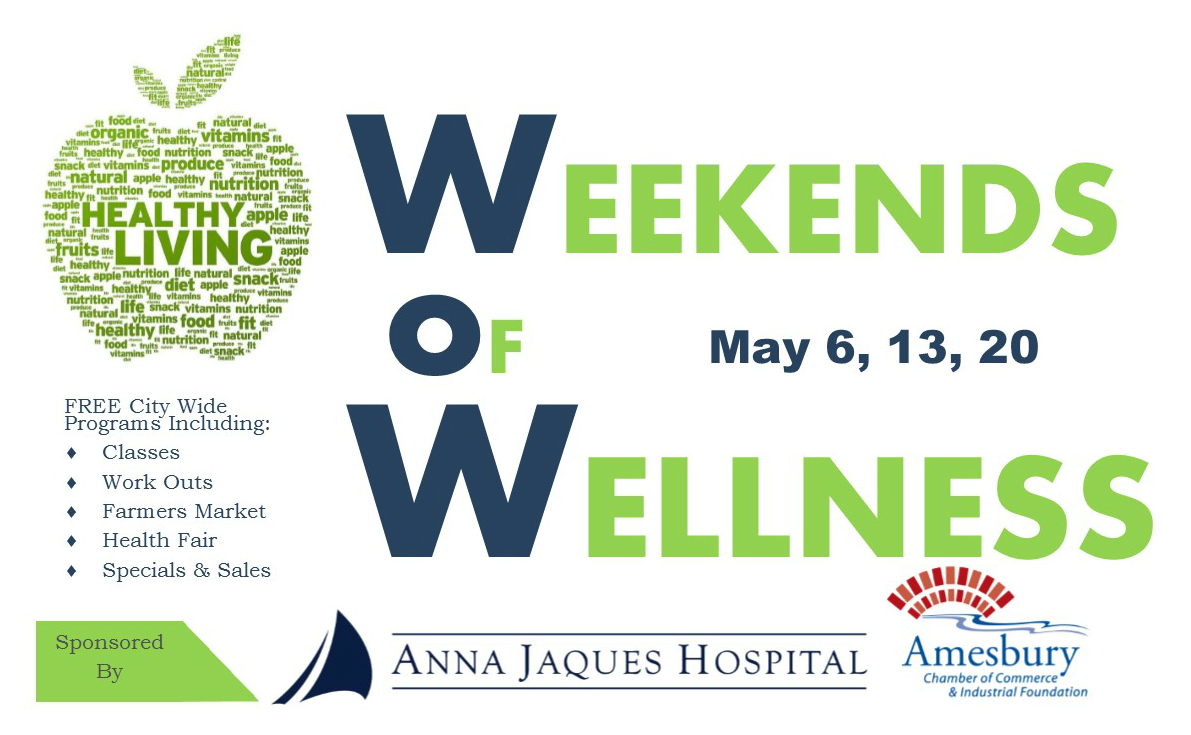 Health Fair & Farmers Market
Spring into a season of health with the support of our members. Join us on Saturdays in May at programs designed for you to try a new therapeutic practice, take a deep breath, examine your behaviors, pick up a new hobby, or just consciously engage in your preferred stress reliever.
We'll kick off the month with a Health Fair and Farmers Market in the City Hall Parking Lot on May 6th from 12-4pm. See the list of participating businesses and organizations below and we'll see you there!
Amesbury Council on Aging
Amesbury Dental
Amesbury Fire Department
Amesbury Orthodontics
Amesbury Police Department
Amesbury Youth Recreation
Anna Jaques Hospital
CrossFit Amesbury
Essex National Heritage Commission
GetFit Mobile Training
Neighborhood Health
Pause Yoga
Positive Works Studio
ProEx Physical Therapy – Amesbury
Rehab 365 a Division of Arete Rehab
Relay for Life
Revision Energy
Scentsy Consultant – Lisa Cyr-Wilmot
Seniors Helping Seniors
Young Living Essential Oils
Farms & Food
Down to Earth Garden Shop
Flatbread
Health Matters
Tanga Ginger
Half Hour Demonstrations
CrossFit Amesbury – Crossfit Amesbury coaches will be on site teaching those interested all about the essence of CrossFit and the benefits it can have on one's life from a physical and mental perspective. To give everyone a true glimpse into CF, coaches will be running short fitness class demos that anyone willing is welcomed to jump into and try.
Down to Earth Garden Shop
Pause Yoga
Positive Works Studio: Join Christy Lemire as she showcases her skills by teaching a little Pilates/Yoga On the Mat.
ProEx Physical Therapy – Amesbury
Rehab 365 a Division of Arete Rehab: Learn about the effects of dehydration, the ways to stay hydrated, and a surprising list of the top-5 most hydrating foods. Can you guess them all?
This list continues to grow, visit often for updates.