When:
June 17, 2017 @ 2:00 pm – 5:00 pm
2017-06-17T14:00:00-04:00
2017-06-17T17:00:00-04:00
Where:
Unity on the River
58 Macy St Amesbury
MA 01913
Contact:
Cynthia Perdigao
978-834-7830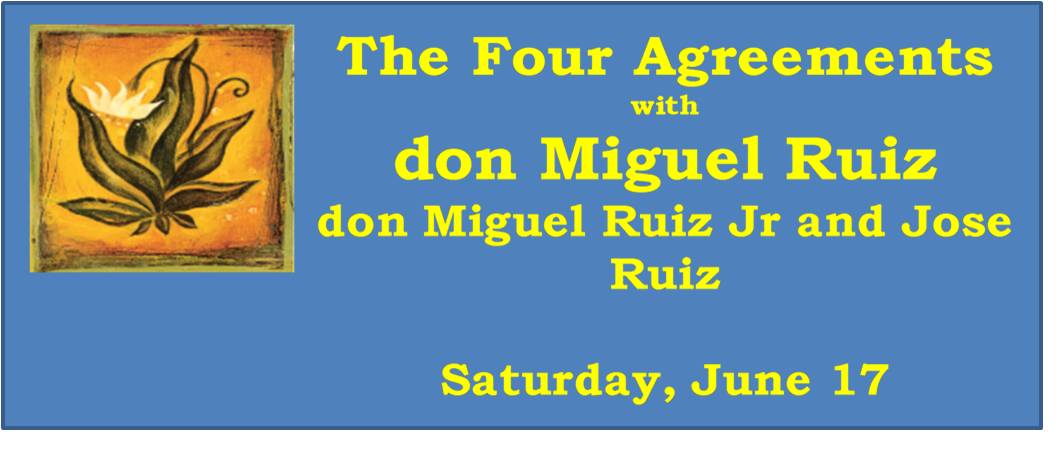 Amesbury, MA: Unity on the River is pleased to announce THE FOUR AGREEMENTS FOR A BETTER LIFE, with renown authors and spiritual leaders don Miguel Ruiz, don Miguel Ruiz Jr. and don Jose Ruiz. On Saturday, June 17, join us from 2-3pm for a VIP Event which includes a book signing, photo-op, gift bag, reserved seating during general admission session and light refreshments. Tickets are $150. From 3-5pm join us for a General Admission session which includes an interactive discussion with the Ruiz family and question and answer time. Tickets for the General Admission session are $75.
Tickets are available online at http://www.unityontheriver.org/four-agreements or after April 2 tickets are available in person at the church.
IMAGINE living a happier, fuller, more meaningful life. Imagine a life without conflict, without guilt, without shame….a life where you are free to express the real you without fear of being judged by others….a life where you love and accept yourself just the way you are. This way of life is entirely possible, and it's in your hands.
"The Four Agreements for a Better Life" presentation will deepen your understanding and practice of The Four Agreements, and guide you toward the life you really want to live. Unlock the power of those deceptively simple agreements. It's time to live a better life!!
Experience Living the Four Agreements
In the bestselling book "The Four Agreements", don Miguel Ruiz gives us principles that can transform our life into an expression of unconditional love. By discovering the source of self-limiting beliefs that rob us of joy and create needless suffering in our life, we can then shift our perception with that awareness by applying a powerful code of conduct that can rapidly transform our lives to a new expressed freedom, true happiness and love. The code of conduct is The Four Agreements.
Based on the family's Toltec wisdom, don Miguel Ruiz and sons will share how to apply "The Four Agreements" in our everyday life as an instrument of transformation in this interactive experience. Thus, allowing us to co-create a mutual understanding within the group of each agreement, including the Fifth Agreement-be Skeptical, but learn to listen in a way that reflects our personal life. From this point of view, the presentation will be a formless organic experience, as the questions and interactive engagement with the Ruiz's and those in attendance, will create the foundation of a new dream where unconditional love is not a definition but an experience we can manifest in our life.
Go to unityontheriver.org for details, or contact Cynthia Perdigao at 978 834 7830 or info@unityontheriver.org